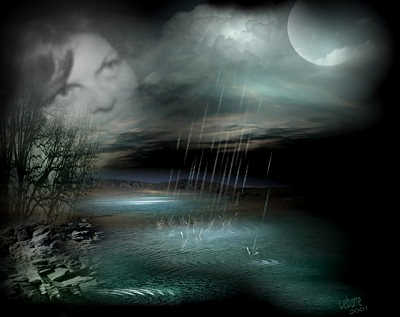 "WHEN"
WHEN YOUR HANDS TOUCHED ME IN ANGER DID IT MAKE YOU FEEL LIKE A MAN, WHEN YOU SAW THE BRUISES YOU LEFT BEHIND HOW COULD YOU DO IT AGAIN; WHEN YOUR HANDS TOUCHED ME IN ANGER WHAT WAS GOING THROUGH MY MIND, WHEN I FELL INTO YOUR ARMS WITH FORGIVENESS, HOW COULD I HAVE BEEN SO BLIND; WHEN YOUR HANDS TOUCHED ME IN ANGER DID YOU GET SOME KIND OF THRILL, DID THE BLOOD I SHED MEAN NOTHING TO YOU, DID YOU NOT THINK MY PAIN WAS REAL; WHEN YOUR HANDS TOUCHED ME IN ANGER I REWARDED YOU WITH TIME IN MY BED, I 'D FALL IN YOUR ARMS AND MAKE LOVE TO YOU, I MUST HAVE BEEN OUT OF MY HEAD; WHEN YOUR HANDS TOUCHED ME IN ANGER DID YOU THINK IT PUT ME IN LINE, DID ALL MY BEGGING JUST FALL ON DEAF EARS, DIDN'T YOU KNOW I WOULD HATE YOU IN TIME, WHEN YOUR HANDS TOUCHED ME IN ANGER I NEVER KNEW I WAS SO STRONG, TO PACK UP ALL MY THINGS AND LEAVE, AND HAVE YOU FACE BEING ALONE; YOUR HANDS WILL NEVER TOUCH ME IN ANGER, AGAIN IN THIS LIFETIME, I FOUND THE STRENGTH TO WALK AWAY AND LEAVE YOU FAR BEHIND.

DADDY'S LITTLE GIRL
COLD WINTER AIR FALLS UPON THE FACE OF A WEEPING CHILD, CAUSING NO PAIN BUT NUMBING THE PAIN SHE ALREADY FEELS, AN ABANDONED HEART ANIMATING EXISTANCE, THOUGH THE SOUL AND SPIRIT ARE INCAPABLE OF LIFE,SIRED AND EXPLOITED A DISTINCTION WITHOUT DIFFERENCE, MENTAL LABOUR OF A WOMAN INTRUDING ON A CHILD'S MIND, A FIGMENT OF IMAGINATION CONTRADICTING A GRIM REALITY, ANIMOSITY'S FAILURE TO DOMINATE PATERNAL DEVOTION, PEACE OF MIND AN UNLIKELY ASPIRATION, CONDEMNED ONLY TO MUDDLED DREAMS OF ESCAPE, ANCESTRY AND BLOOD RULED THIS HER DESTINATION, SHAME AND OBEDIENCE WOULD CONCEAL HER VERITY, ENBALMED IN HER MEMORY A BURDEN OF ARDENT SILHOUETTES. DEPRIVED OF INNOCENSE AND PURITY NOW A SEASONED FLOWER, SO MANY ROLES FOR A CHILD TO ASSUME, DADDY'S LITTLE GIRL AND THE ROMANTIC LEAD, AFFECTION, ATTACHMENT AND CONTEMPTABLE MALICE, IS THE LIFE FORCE OF A MISUSED CHILD.
"THE DEEP END"
I'M SPIRALING DOWNWARD IN DISILLUSION, THERE MUST BE AN END TO THIIS PAIN; I CANNOT ESCAPE MY MIND'S CONFUSION, FROM REALITY I HAVE ABSTAINED; I FOUGHT THE BATTLE OF LIFE AND LOST, I'M A SHELL OF MY FORMER SELF, STOP ALL THE TORTURE AT ANY COST, I CAN NO LONGER EXIST IN THIS HELL; THIS AFFLICTION HAS TAKEN OVER MY MIND, THE MISERY TO MUCH TO COMPREHEND, SANITY OR INSANITY I THINK I CROSSED THE LINE, MY STATE OF MIND HAS BEGUN TO DESCEND; REALITY TO ME IS NOW DISCREET, OR WAS IT EVER IN EXISTANCE, A PEACEFUL HEART IS NOW OBSOLETE, ANY NORMALCY IS JUST RESISTANCE; THE NOISE IN MY HEAD IS DEAFENING ME, THE FRUSTRATION IT WILL NOT CEASE, I KNOW THIS ANQUISH IS MY DESTINY, AND DEATH WILL BE MY RELEASE.